Lorde's makeup artist, Amber D, shared stories and tips in Auckland this week, giving guests behind-the-scenes access to the glamour and grind of life on the road.
Alongside celebrity meetings, including watching Beyonce and Jay Z embrace Lorde, she joked that the American mega star followed her performance at the Grammy's by again "opening for Lorde," at the Brits.
Constant travel had its funny sides with makeup touch-ups before flights landed bemusing the mostly middle-aged men who populated business class who often didn't know who the 17-year-old chart-topper was. Amber D also said dealing with a teenaged attention span meant her makeups were becoming ever quicker. She had to contend with a bobbing head, distracted by Instagram and the likes, meaning precise eyeliner application might end up accidentally extending into a cat's eye. "'You will be Amy Winehouse soon', I say."
The pair also joke about the label Lorde is sometimes landed with, due to her liking for wearing black and purple lips.
"I always call her teen goth and she hates it, cos she isn't really." But wearing black lace Tom Ford at the Brits she certainly channelled the "perfect goth" with a darker than normal lip, however, contrary to some reports it wasn't black and she never used white face paint, it was just that Ella Yelich-O'Connor was naturally pale.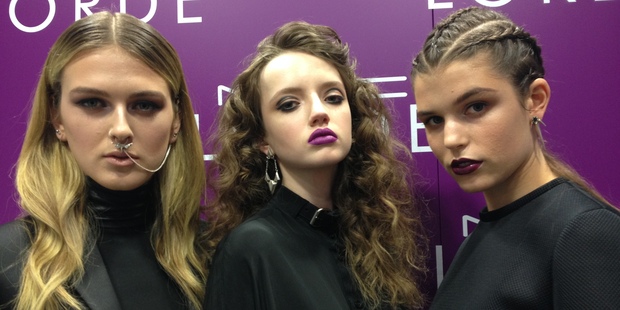 The international fashion for wearing a darker purple or red toned lip definitely has a lot to do with Lorde, says Amber D. Sales of dark lipsticks are up. "We, at M.A.C call it the Lorde effect."
"It's so crazy at the shows in the States, might be about 5000 people in the crowd and half of them will be wearing a dark lip."
Amber D, who is on secondment from her job as M.A.C senior artist for Oceania to tour with Lorde, explained that the basic Lorde look had evolved in their nine months together. She showed three versions on models. At the heart of all the looks is luminous skin, with the aim of the teen not looking overly made-up.
As with all artistry there's plenty of layering going on. For the Grammys, where Lorde appeared with witchy black fingers, Amber D explained that she simply painted black nail polish onto her fingertips over a gel polish and then after the performance removed the polish, leaving the gel, so Lorde's manicured hands could wrap prettily around the two awards she collected.
Asked by Viva if Lorde was likely to break out into a new look, Amber D said having established a signature style with dark lips for shows they would stick with that, albeit always varying colours a little.
When off Lorde duty, Ella Yelich-O'Connor generally did not wear a lot of makeup and was confident at applying her own basic everyday standby of Mineralize powder, and a little eyeliner. Lip-wise she had even been playing with a peachy orange shade for fun.
THE LORDE LOOK
Prep step: Skin preparation is vital for making makeup seem minimal while guaranteeing it goes the distance. On a clean face and over lip balm and eye cream, apply primer before foundation.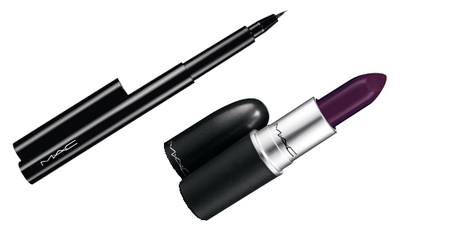 Amber D uses M.A.C Lightful Softening Lotion (a toner), Prep n Prime Vibrancy Eye to smooth the eye contour area and moisturising Lip Conditioner. For a luminous base she mixes Strobe Lotion with Natural Radiance Primer in Pink.
Face base: Foundation is applied lightly as needed, with a brush to polish over skin, followed by concealer to any facial areas requiring extra attention. Then a highlighter is used to brighten around the eyes, on the bridge of the nose and in the lip bow. Translucent loose powder is used sparingly on the T-zone, with a compact powder added if more coverage is needed, especially to disguise any breakouts. Coverage is greater for concerts and requires extra attention to blending for high-definition television appearances. A touch of blush adds a little colour and contour to cheeks.
Amber uses Mineralize Moisture Fluid Foundation (in the very light shade NC15), with a 188 brush, followed by Prep n Prime Highlighter in Radiant Rose and a professional concealer palette with six shades, then Prep n Prime Loose Powder and sometime also Mineralize Skin Finish, with So Sweet So Easy cream blush.
Eyes: Lorde's strong brows require little attention, other than a little gap filling and grooming.
Amber uses Penultimate Brow Pencil in Brown and Brow Set in Clear.
The standby eye base shade is a taupe tone that brings out her pale blue eyes. A cream shadow is used because it dries to a crease-proof finish and powder or even glitter can be layered over it. The base is taken a little under her wide-set eyes to help centre them. Sometimes a little jet-milled metallic powder shadow is applied to the centre of the lid for a slight wet-look shine, or a touch of pink highlighter. A fine tip liner is pressed into the lash line to create the impression of denser black lashes and sometimes extended for a subtle cat eye effect. A curler ensures lashes are lifted and then subtle mascara is applied.
Amber used Paint Pot in Groundwork as her regular eye base, then mixes up the accent shades, before applying Rapid Black Penultimate Black Liner and Everyday Extended Play mascara.
Lips: A deep purple toned pencil is the usual base to give depth to lipstick, even if the final colour varies from red to near black. Apply all over the lip and then sharpen the edge outline before applying lipstick with a wide flat concealer-style brush because this is quicker than fine one.
For performance, a little powder sets the lipstick, a trick that can be tried at home, but never apply directly to the lips as this will go gluggy and show. The trick is to take a single ply of tissue paper, and press the powder through this onto lips to create a matte effect.
Amber uses Vino lip pencil and favours the new Pure Heroine lipstick, which she says is shade between her other standbys: the more matte brighter purple Heroine and the darker Cyber shade. Ella especially likes Pure Heroine because its texture allows it to be pressed into lips as stain.
Finishing touch: Once the makeup is done, a little more highlighter is applied for extra luminosity, across the highest point of the cheekbone and the bridge of the nose and bow of lip.
Amber uses Pearl Cream Colour Base and sometimes sparingly adds a little Silver Dust loose powder highlighter blended out from the centre of the same areas.